Monday, April 25, 2011
Posted by

MJE Team
at 10:33 PM
No comments:

Thursday, March 24, 2011
Who are the homeless? Where do they come from?
California has one of the highest rates of homeless in the country. With about 350,000 homeless people in the state, Santa Barbara alone has about 2,000 homeless. Some homeless live on the streets, homeless shelters or even in their cars. Many people see the homeless as lazy people who do not want to work. However many of the homeless are without a home for many reasons: drug and alcohol addiction, mental illnesses, lack of affordable housing, poverty and unemployment. About 30-40% of the homeless have a mental illness and cannot care for themselves. About 23% of the homeless are veterans. Eight million is spent on programs and services related to the homeless each year, half of that money is spent on medical help. The Public Health and Alcohol, Drug, and Mental Health services have been improved to keep track of the homeless physical and mental health.
http://www.pbs.org/now/shows/526/homeless-facts.html
Common Ground Santa Barbara is part of the national organization. With 297 volunteers and still rising, the organization has helped the homeless with the most critical conditions. They help them attain social services to help them keep their homes. Local volunteers interviewed the homeless face-to-face they asked questions about homeless routines and history. They also look to provide social or mental services to homeless who participate in the survey. Check out the website below to read more about their success. http://thebottomline.as.ucsb.edu/2011/02/common-ground-works-to-take-homeless-off-santa-barbara-streets
Transition House provides shelter, housing, and support services to homeless families. It is located In Santa Barbara and it has been helping homeless people for over 27 years. They help the homeless who have special needs, mental or physical disability's. They are currently building an Infant Care facility that will be named "Mom's" after the restaurant that used to be there for 64 years. Transition House is a success thanks to their 1,200 community member's support and the 70% of the annual operating expenses donated by local residents. They have helped 60% of their clients return to a permanent housing and have helped over 10,000 parents and their children since they have started. They have been a great help! http://transitionhouse.com/services/about/mission-philosophy-2/t outcome!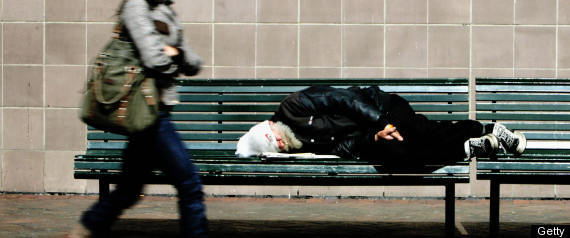 Casual State Street benches
Earlier this year downtown Santa Barbara wanted to reduce the visibility of homelessness. Fifty thousand dollars were supposed to be spent on moving the street benches to a 90 degree angle and removing the back rests of benches to make sleeping on the benches uncomfortable for the homeless at night.
On February 8, 2011 the City council voted to keep the 14 benches on the 800 and 900 blocks of State Street, where they are. Many of the City Councils had different reasons for not wanting to move the benches. First of all some believed that it was not worth 50,000 dollars to move the benches a few feet away, when they can use that money to make some real solutions to homelessness instead of just hiding them. Mayor Helene Schneider stated, "The city's 12-point plan for ending homelessness never mentioned moving benches as a solution to the problem." Although most councilmen believe the plan will not be effective, they all agreed to revisit the proposal in a year.
"People who are homeless are not social inadequates. They are people without homes." -Sheila Mckechnie
Posted by

MJE Team
at 9:03 AM
6 comments: